Billie Eilish's Green Roots Were the Biggest Trend At Fashion Week
Ok, we know this isn't a new thing since Billie dyed her roots her signature slime green last year..but now she's inspiring whole runway shows. To me this look makes perfect sense; green symbolises growth, roots literally show how much your hair has grown...maybe she's onto something..or maybe I'm reading into it too much.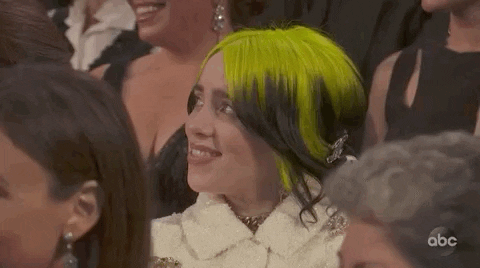 Recently Dries Van Noten sent models down the AW20 runway show in Paris with fluorescent roots to "brighten the winter days". However unlike Billie, no hair was dyed in the process, as Sam McKnight achieved this look by soft feathers and hairspray.  I love the pop of colour, contrast, and different texture it gives to hair. 
Paired with makeup artist Inge Grognard's two-toned eyeshadow and dark lips, the whole thing is the perfect Gen Z dark romance emo glam expression, and honestly I don't want to wait until fall to try it out. 
If you feel a little differently about this trend, then there's other ways to incorporate green into your life. Actually many shades of green are really popular right now and a variety of ways. I've seen everything from sea foam and mint, to emerald and forest all over my feed in terms of fashion, beauty, and interiors. 
FASHION
NEO MINT
A new shade of green emerged this spring and it's a cooler more refreshing take to last Spring's popular pistachio colour. It looks great paired with pink, yellow, and grey. 
SEAWEED GREEN
Keeping with the water theme, seaweed green is also here. Deep, rich, and luxurious-looking, this tone looks great on it own or matched with other colours. It also looks really in different textures such as leather. 
BEAUTY
Nails
Adding green to your manicure is a trendy way to spice up your classic French tips. It's neutral enough to go with everything, but also different enough to be exciting.
INTERIORS
Using green inside your home makes for a bold and glamorous, but also calming atmosphere. It's a classic shade that never goes out of style, but if you still don't want to invest in an item, you can achieve some of its serenity via plants. 
HAPPY SPRING! CHOOSE GREEN!
-T